The first weekend of December Somerville is throwing out all the stops as busy artisans show off how you can fulfill all your holiday shopping needs.
Union Square Winter Craft Market –
Saturday, 11 am to 4 pm, Union Square Plaza and inside Precinct. Handmade gifts produced by local artisans.
Global Marketplace– Saturday 10 am to 6 pm, and Sunday noon to 5 pm. Third Life Studio,  33 Union Square. A festive array of global Fair Trade Arts and Crafts from women's artisan empowerment programs in India, Kashmir, Rwanda, Ghana, Guatemala and El Salvador.
Washington Street Arts Center– Saturday, Noon to 5 pm. WSAC, 321 Washington Street. Open Studios event with first gallery viewing with new works by Danielle Festa.
Artisan's Asylum
– Saturday, Noon to 5 pm. 10 Tyler Street. Open studios at the maker space with a variety of artisans.
Holiday Vintage Market
–
Saturday,   1 -8pm, Sunday 10 am to 5 pm. Uniun Warehouse, 3 Sanborn Court (beside Journeyman). A winter location for the Davis Flea featuring vendors of  vintage and antique furniture, clothing, jewelry, posters, music, ephemera, collectibles and more. Also taking place December 8-9
Vernon Street Open Studios–
Saturday and Sunday, Noon to 6 pm. 6 &20 Vernon Street.   Mid-career and emerging artists working across a broad spectrum of fine art styles and craft media will exhibit and sell their work just in time for the holiday season.
Mural Dedication Event at Vernon Street Studios scheduled for Sunday December 2 at 11:30 am. Art panels were recently created and installed on the outside of the building on Central St and will be publicly celebrated at the event.
Local is for Lovers Market –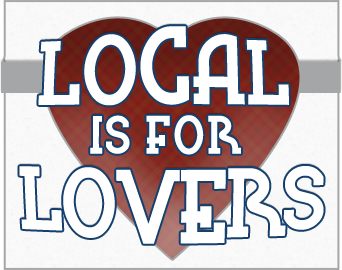 Sunday, December 2, 11 am to 5 pm. Somerville Armory, 191 Highland Avenue. Sponsored by Somerville Local First.  Gifts from local artisans and retailers.
Wrap Around  – 
Saturday and Sunday, 1-5 pm.  Nave Gallery, 155 Powderhouse Blvd. Benefit for the Somerville Homeless Coalition, the annual sale of handmade goods. Also taking place  December 8-9 and December 15-16, 1-5 pm.

SLAM (Saturday Local Artists Market) –
Saturday, Noon to 4 pm. The Burren, 247 Elm Street. Local artists in a variety of media.  Taking place on the 8th, 15th and 22nd as well.
Mudflat Holiday Open Studio and Sale
–
Saturday and Sunday, 10 am to 6 pm. 81 Broadway. Works from nearly 100 clay artists.  Opens Friday, November 30 from 6 to 10 pm and continues through Sunday December 9.
Katherine Martin Widmer School of Painting Exhibit –  
Sunday,  2 to 5 pm. 40 Quincy Street. End of the term exhibit of student work.
Bloc 11 Artist Reception
– Sunday, 5 to 7 pm. 11 Bow Street. Map drawings and other works on paper by Emily Garfield.
5th Anniversary Party and Open studio for Abrazos Press –

Sunday, Noon to 6 pm, 11 Miller Street.  Woodblock and mixed media prints and printmaking demonstrations.
Karen Aqua Studio Show and Sale – 
Sunday, Noon to 6pm.  Miller Street Studios, 11 Miller Street.  Despite her passing over a year and a half ago, animator Karen Aqua's legacy lives on through her films and artwork.  Over 180 of Karen's color pastel drawings have been lovingly framed and displayed and will be available for viewing and sale .  Also copies of the DVD compilation of Karen's films.
Blue Cloud Gallery –
Saturday 11-7, Sunday 11-5. 713 Broadway. Handcrafted items by over 100 artists on sale at this store. Also get your tickets to  the Somerville Arts Council's Illuminations Tour here. while they last.  December features jewelry by Lisa Trachtman.
Christian Waeber Open Studio/Moving Sale –
Sunday, 11 am to 6 pm. 86 Glen Street. Local photographer concentrating on urban environment and still life.  The subject of many of his works is East Somerville and the Big Dig by night.
Somerville Winter Farmers Market –
Saturday, 9:30 am to 2:00 pm, Armory, 191 Highland Avenue.  The season opener of the local food market.  A good place if you're planning a holiday feast or making your own food gifts. Continues every Saturday through April 13, 2013.
This event isn't in Somerville but it's just across the border and looks amazing so squeezing them in!
Stove Factory Holiday Boutique and Open Studios –
Saturday and Sunday, 10 am to 5 pm. 523 Medford Street in Charlestown. Three floors of studios and shopping.